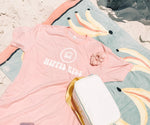 A Hippie Kids one of a kind swim suit duh! Cheetah top designed by Hippie Kids! Bag $5 at Target! 
Beach Towel + HIPPIE KIDS TEE😛✌🏽+ Scrunchie
  You need a fun towel to lay out on and catch the rays! We snagged this banana towel at Target! Hippie Kids tee in pink this is a size large we love oversized tees for the beach great cover ups! You can grab yours here-
scrunchie is from Target!
A small easy to carry cooler! This one was only $5 in the target $1 section!
If you are of age! If not skip this section! 😛✌🏽
My favorite beer! Locally brewed at Red Hare! It's their 50/50 Tangerine! 🍊 The best beer for sitting on the beach or at the pool!
Something to snack on! This stuff is the 👏🏽 I'm def. addicted! 
PIZZA