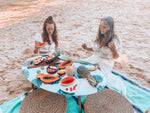 First grab your friends! 
You know they are totally there for the food! So don't disappoint 🤪lol food is life! Haha bring lots of fun fruits! Some tropical feels! Or go for the wine and cheese! Whatever is your vibe! We went with an island vibe for our picnic on the beach! 
Açaí bowls are a must 😋🙊
What you need! A table! We got this freaking adorable table from insideweather.com! 
A blanket + pillows or poofs! These are wicker poofs which I scored at goodwill!
It's always fun to dress up! So tell your people to be extra and dress up🤪 why not! You already know both sets we are wearing are from Shophippiekids.com
Lights could make your picnic even more magical!
Bring good friends, good vibes and you are guaranteed a good time! ✌🏽