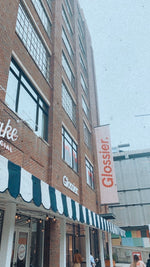 First off yes! Glossier is doing a pop up in Atl! It is at ponce city market until April! Make sure to check it out it was beautiful! 
Hippie Kids take on Glossier ✌🏽
I loved all the messages in the mirrors! 
& the pink walls! I love pink walls! 
There is a photo opp room which is fun! Make sure to go in! You get a private minute to take pics! 
Glossiers pop up is at ponce city market in ATL its on the right side of ponce past madwell!