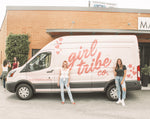 We didn't have the bus this go around! But we made a fun little set up with a Hawaiian wall paper design + rattan shelving to give that beach vibe. 
Guys this dreamy coffee + matcha shop on wheels 😍
@whimsybeverage
Kombi Keg! A vw bus with Kombi on tap✌🏽
Some of the grooviest set ups at this pop up event X GIRL TRIBE
Until next time!