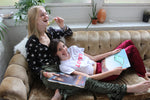 Recently we shot with models Hannah & Grace Anne on our last Hippie Kids shoot. This was their first shoot with us, they were amazing on film and kept us laughing the whole time! They brought a lot of great energy to the shoot & since they are best friends they had amazing chemistry. It was a lot of fun having them on set, they are naturals! We are excited to see where modeling takes them! We think they are fresh talent with unique looks. Below we asked them some questions, check it out below. 
They have each others back literally:p
Q & A 
With Models Grace Anne & Hannah 
How long have you been modeling?
Grace Anne- October 2017
Hannah- Since June 15th 2017
How old are you? 
What is your favorite shoot you have done so far?
Grace Anne-
"Honestly my favorite shoot that I have done is for Hippie Kids. I loved the set up and all the clothes were so cute!!"
Hannah-
"Hands down shooting with Hippie Kids, the clothes were so retro and stylish everyone was so nice and it was just overall a great day being around wonderful people doing what I enjoy."
Who are you signed with?
Grace Anne-
Ludlow Scout
Hannah-
Ludlow Scout
How did you get scouted?
Grace Anne-
"I took pictures with one of my friends for her jewelry company, Ludlow commented on my insta."
Hannah-
"In March of 2017 a girl in my dance class last spring sent pictures in to different agencies without me knowing and Ludlow scout reached out to me and I signed with them in June."
What are some of your hobbies?
Grace Anne-
"I do ballet 5 out of 7 days of the week, but I kinda lost the passion I had for it a while ago. I really enjoy doing hot yoga."
Hannah-
"My hobbies include dancing, shopping, and spending time with my friends."
What's your favorite munchies?
Grace Anne-
"My favorite snack is pretzels & m&m. Its so good!"
Hannah-
"Queso and chips or Oreos" 
Whats your favorite band?
Hannah- Jackson 5
Grace Anne-
"I LOVE MUSIC. My all time favorite band is Alabama Shakes, but I love soooo many bands."
What is your favorite color?
Grace Anne-
"Purple, thats what my room is purple haha."
Hannah-
"Rose Gold or Sparkles"
What do you wanna be when you grow up?
Grace Anne-
"My dream is to model when I grow up. I would absolutely love to go to the fashion weeks and be in magazines."
Hannah-
"I want to pursue modeling as well as open an art museum. My dream is to be respected and well known model in the modeling world, as well as be on the cover of Vogue. "
Who is your favorite model?
Grace Anne-
"Bella Hadid is probably my favorite model because her look is so unique. Also she has such pretty eyes."
Hannah-
"Taylor Hill is my favorite model she has such great qualities and is always able to grab my attention."
What is your favorite memory/time together as friends?
Grace Anne-
"Hannah and I have known each other forever but never really were super close until this past year. I love her talent for making everyone laugh!! I don't have one specific memory, I cherish most with hannah but some of my favorite memories are when we do fun makeup!! Hannah's perfect skin and eyes make it soo easy to do makeup!! I also love just sitting down and talking to hannah she's a super good listener;)."
Hannah-
"My favorite time that Grace Anne and I spent together was when we were at GAs House and the power was out in her neighborhood and we walked around outside with  flashlights and just talked about the future and then went back to her house and sat around candles and just jammed to some music."