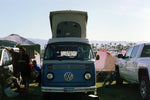 Coachella Weekend 2 
    Kissie and I have been reminiscing on last years Coachella. Cant believe its already been a year since this magical dream of a weekend happened. Last year we went on a whim and hoped on the plane to LA, then drove three 1/2 hours to the desert. Yes we slept in our car and ate cold pizza for breakfast, but it was one of the most magical weekends and totally worth it. So here are our tips for the desert! 
1. Bring a bandana its dusty out there! 
2. Bring a Polaroid or Film camera the lighting is perfffffect.
3. WATER! 
4. For camping out bring pizza for those midnight munchies
5. Stay for the sunsets <3 they are beautiful out there! 
6. Bring stakes for your tents! It gets windy at night and your tent will literally blow away! 
7. Bring your best friend! 
 8. JAM OUT & HAVE FUN