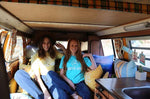 Two sisters created a unique businness called Hippie Kids out of their 1977 VW bus Daisy.
The girl bosses behind the wheel at Hippie Kids Scooby + Kissie!  
Co-owner Scooby at a pop up shop setting up in Hippie Kids Vw bus! 
Everything is packed + loaded in the bus for shows it is the best set up for when it comes time to set up or take down. All we have to do is load it all in and drive away! 
Follow @shophippiekids on instagram
instagram.com/shophippiekids.com