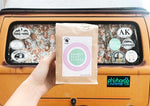 B R I G H T  S P O T  C O F F E E 
We recently had our holiday sip + shop which was a lot of fun!  We loved having Bright Spot Coffee for the sipping aspect of the night hehe. So tasty! As girl bosses we love, love, love the message of the Her House blend! "Coffee that gives women coffee farmers the credit they deserve and the voice they need."
T H E  H A P P Y  W A G O N
Also yall! We love the fact that they do bus business too! They call it the Happy Wagon! So everyone in the Richmond, Va area be on the look out for this groovy company + their amazing coffee + Happy Wagon! 
Amazing coffee with and amazing message
I love how much of a positive company Bright Spot Coffee is! Definitely one to get on board with and support! 
 "We envision a world where everyone has a reason to smile, and if we can play even a small part in making that happen, then we have succeeded." 
-Eli Thompson, Founder
CHECK OUT MORE @ https://brightspotcoffee.com/ or follow them on instagram @brightspotcoffee